GPhC Pre-reg Exam Course



GPhC Exam Course

This is our popular annual course. It contains a wide range of updated questions and answers along with lectures and videos.

£59.99



The internet's largest repository of GPhC Exam questions - tried and tested questions covering the entire GPhC Syllabus. This includes:
Last year we had a 97% pass rate (as of 2017) - we ask all our students to come back and fill out our survey once they have taken the exam. We are so confident we will give you your money back if you fail.

Our "All you need to know" Resource - in addition to our vast database of questions, subscribers get access to resources covering the entire GPhC syllabus. Including:

Our online E-book covering all you need to know for the exam including the BNF, MEP and Tariff

5 calculation textbooks

Full exams (timed)

Responding to Symptoms Flashcards

Pre-reg toolbox, and much more...

Tutor support - each subscriber is designated their own tutor (a UK pharmacist) to aid them in their revision.

Innovative question system - questions which are graded automatically with detailed feedback which enables you to track your progress.

Fast access chat forum - our browser embedded chat forum. Think MSN messenger dedicated to UK pharmacy pre-regs.

Specialist calculation questions - we know that this is now one of the most important aspects of the exam, therefore we have a wide range of resources including our super popular "marathon calculations" with feedback giving exact workings of how to perform the calculations.
Guarantee - if you find a site with more questions or resources we will send you a refund!
Discount - on all our additional services including private tuition.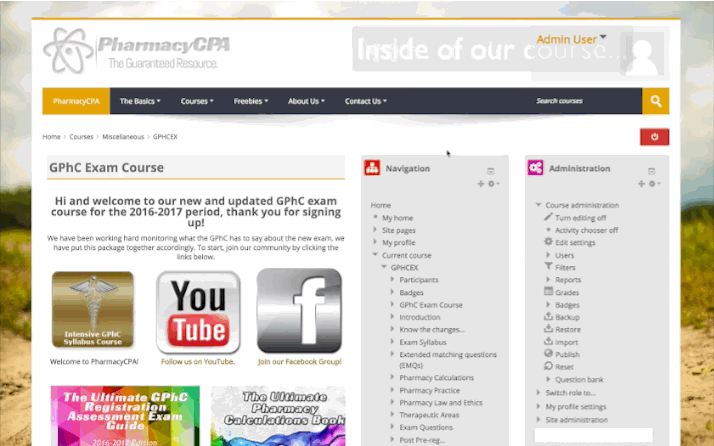 Last modified: Saturday, 20 January 2018, 6:02 AM